Hey guys! Mia here! The Mia Moo Fund is getting ready for our annual FunDay that is coming up soon in October. This is going to be the best day of the year and I am so excited for everyone to see it in action!
I spent this month adjusting to college life! I turned 19 this month and had the sweetest day with my family! I miss them dearly but luckily we still talk every day! I've had the best month building an amazing community and even changing my major! I am so excited for all the amazing memories that college will bring! Love all of you.
Follow us on social media to stay up-to-date with all things MIA MOO!
FACEBOOK: @Mia Moo Fund
INSTAGRAM: @miamoofund
Donate 
HERE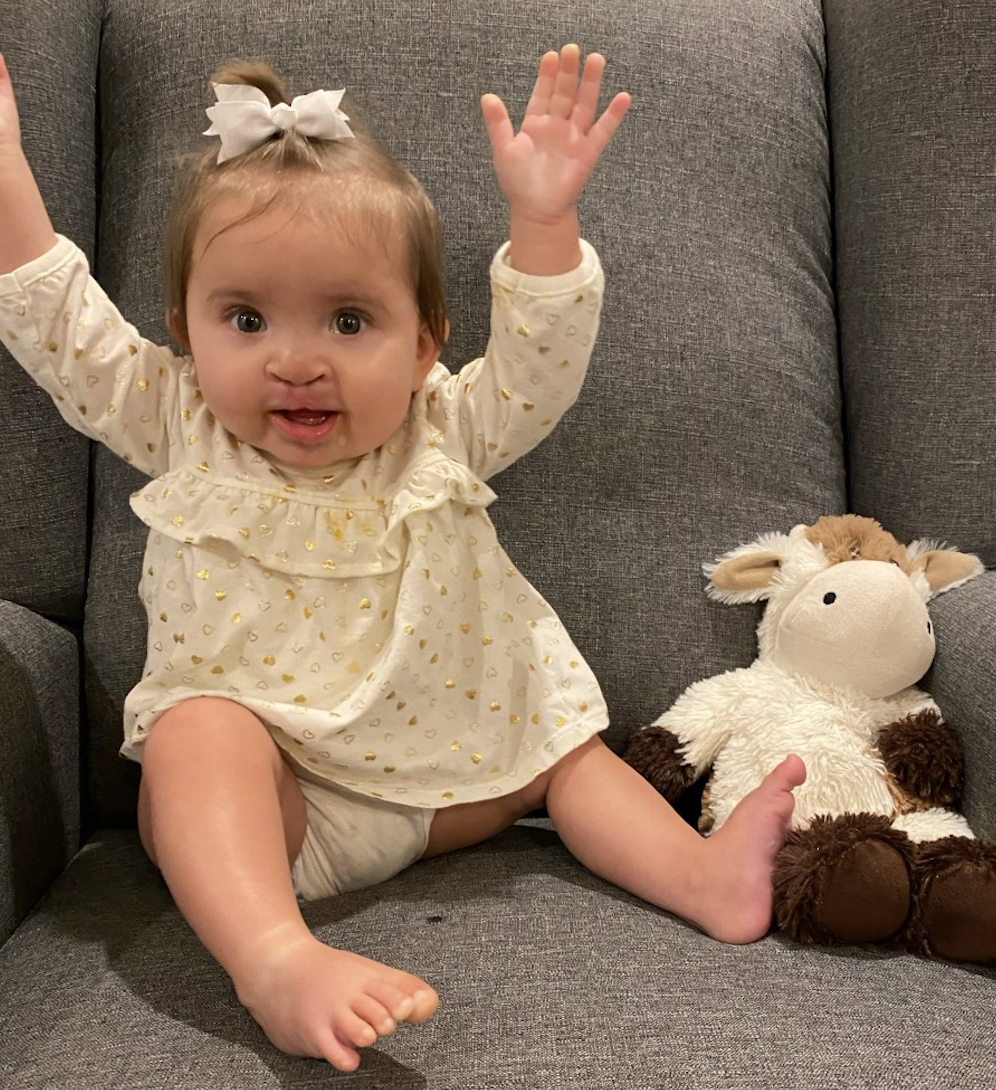 MEET LANIE - SEPTEMBER RECIPIENT!
Lanie was born in January 2022 with a bilateral cleft lip and palate. She is our 4th baby, and our 2nd with a cleft. Lanie was born with almost no palate, but that didn't slow her down! She had been to near 40 different appointments with various specialists by the time she turned 6 months old. At 6 months (and 1 week old) Lanie had surgery to repair her cleft lip and nose. She has since recovered, and we are planning another surgery early in 2023 to repair her palate. We are so thankful for the Mia Moo Fund helping our family, and feel beyond blessed to be a part of this community! ~ Lanie's mom
Spotted!
Mia and her two mentors from camp at a concert for their favorite artist: NEED TO BREATHE
WHERE ARE THEY NOW?
Eva was born with a Pierre Robin cleft palate. It was corrected close to her first birthday and she is currently excelling at speech therapy. She loves using those speech skills to tell stories, especially funny ones and chat with friends and family. She loves to play games with her family, jump on the trampoline with her siblings, read books to her younger brothers, manage her family's wardrobe, enjoy girls' night with her big sister and fellow cleft cutie, Hannah, and delight her mother with the made-up tunes she beautifully hums throughout various activities.
We cannot think about Mia Moo Fund without feelings of love, joy and gratefulness flooding our hearts. In so many ways they are a beacon of hope. Hope that God provides in remarkable ways through remarkable people. Hope through community that mutually encourages each other as we walk through varying stages of similar journeys. We always look forward to connecting with our Mia Moo family at the fun day because there is so much hope, healing and encouragement in this network of people that Mia Moo has poured into and built up who continue to advise, encourage and pray for each other throughout the year. We will never be able to express our abundant gratitude to these loving people who are MMF.
~ Eva's mom
PRODUCT SPOTLIGHT
$10.00 Sale
Mia Moo Funday shirt! Bella Canvas Tri Blend T-Shirt. Super Soft. Limited quantities. "Remember whose you are" verse on front of shirt.
100% of proceeds go to help families
Click here to purchase
SEPTEMBER Monthly Reflection
1 family helped with financial assistance in September
138 families helped with financial assistance to date
$595,000.00 in financial assistance awarded
$9,000 donated in September
THANK YOU!
Know someone who would like to receive our newsletter, sign them up today
https://miamoo.org/
Shop and help the Mia Moo Fund 
A small way that everyone can help is to add Mia Moo Fund as your charity to your Amazon Smile account. You just need to add Worldwide Foundation in West Monroe, LA , Mia Moo Fund is a 501 (c) (3) under Worldwide. You need to shop on
Smile Amazon
and a donation will be made of .5% for each eligible purchase. You only have to add your charity once and it will be saved.