May Reflection 
Hey there! Mia here! In this sweet month of May I oficially finished my first year of college! This year was just the best year ever! I made so many new and lifelong friends and saw Jesus move in ways I have never seen before! Also this month I got to go on the annual Robertson family beach vacation! This week was a relaxing but fun-filled week and I am already counting down the days until next years trip! I hope you all had an amazing month and I hope you have an amazing start of summer!
Also! Scroll down below to see our recipe segment!
You will not want to miss it! 
Xoxo,
Mia
Follow us on social media to stay up-to-date with all things MIA MOO!
FACEBOOK: @Mia Moo Fund
INSTAGRAM: @miamoofund
Donate 
HERE
MEET FLYNN - MAY RECIPIENT!
Flynn was born Oct 21, 2022 with a cleft lip and palate like his mama. So far has had his lip repair and tubes and will have his palate repaired in July. Flynn is so sweet and smiley. He loves to be outside and spend time with his big brothers. ~ Flynn's Mom
MEET LANIE - MAY RECIPIENT!
Lanie is such a sweet girl. She has been through so many trials in her first year of life, but has been tough through it all. She loves her 3 big brothers more than anything, and wants to be wherever they are. We are so glad Lanie's first 2 surgeries are behind her, and we look forward to watching her little personality shine! Thank you, Mia Moo Fund!! ~ Lanie's Mom
MEET PAIGE - MAY RECIPIENT!
Paige is a wildly energetic and silly toddler. She loves to play the game 'I Spy', play at the playground, and dance to any music. We are so proud of how she has moved through her two surgeries (cleft lip repair and recently her cleft palate repair surgery); recovery is a challenge and as a family we are so grateful to have moved through it. Paige brings so much joy to our family! ~ Paige's Mom
MEET AUSTIN - MAY RECIPIENT!
Austin is such an amazing little boy! He is filled with so much joy and happiness. He loves dancing and going to Karate. We are forever grateful for the Mia Moo team and feel so blessed!! ~ Austin's Mom
SPOTTED!
Mia and her family trying to take a famiy photo with two babies under two! Level:Hard! At least they are adorbale though am I right?
!!! New Recipe for the month !!! 
My Mom's Mexican Cornbread Recipe
2 cast iron skillets 
Thinly sliced bacon (8-10 slices)
1 1/2 cups of corn meal
1 15oz can of creamed corn
2 large eggs
1 tbsp baking powder
1 tsp salt
1 cup buttermilk
1/2 cup peanut (or vegetable) oil
2 jalapeño peppers (mini-chopped beyond recognition)
Freshly grated Colby-Jack cheese (not pre-packaged) and lots of it!

Preheat oven to 350 degrees
Line the bottom of the skillets in bacon and place in oven while preparing the rest of the recipe.

In large bowl, combine all of the ingredients except the cheese. Whisk together until thoroughly mixed.  Fold at least 2 cups of FRESHLY GRATED cheese into the bowl and mix together with the rest of the ingredients. 

Disclaimer: IF YOU USE PRE-PACKAGED GRATED CHEESE INSTEAD OF FRESHLY GRATED CHEESE, THIS WILL NO LONGER BE MY RECIPE. IT WILL BE YOURS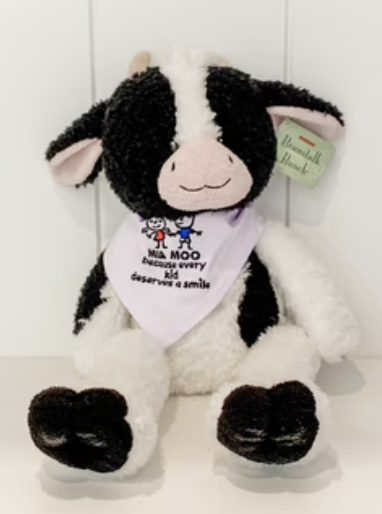 PRODUCT SPOTLIGHT
Cuddly Cow
$19.99
This cuddly cow is soft with black and white fur and sports a Mia Moo bandana. Looks like a cow but feels like a classic teddy bear. This cow is 11" from head to toe and has hypoallergenic fiber fill.
100% of proceeds go to help cleft families
Click here to purchase
May Monthly Reflection
4 family helped with financial assistance in May
157 families helped with financial assistance to date
$653,000.00 in financial assistance awarded
$2000 donated in MayTHANK YOU!
Know someone who would like to receive our newsletter, sign them up today
https://miamoo.org/